Sawgrass Nature Center's "CAMP WILD"
A Science, Nature & Environmental Camp for Ages 6-12 yrs.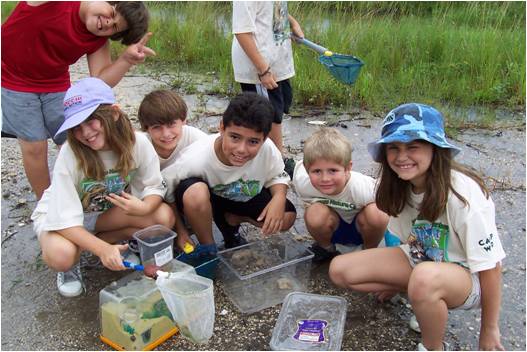 Education is a cornerstone of the Sawgrass Nature Center & Wildlife Hospital's mission, since "in the end, we will conserve only what we love; we will love only what we understand; and we will understand only what we are taught". Camp Wild programs are designed to build an appreciation of South Florida's unique environment through fun, hands-on activities. Camp days are filled with lessons, games, encounters with plants and live animals, and nature crafts. Children overcome fears and learn to explore the natural world around them. The outdoor atmosphere and wide range of activities make this camp a unique experience.
For more information, please call the Center at (954) 752-WILD (9453).
PRE-REGISTRATION IS REQUIRED!
Camp may be cancelled if we do not have the minimum number of registered campers within ONE WEEK of the scheduled Camp day(s).
******************************************************************************************************************
Summer Camp Registration Forms : Summer Camp Registration Package
CIT Forms (13 – 15) : Counselor In Training Package
Counselor Forms (16 – 17) : Counselor Package